Welcome to The Springboard Project
Thank you for visiting our website. We hope you enjoy looking through these pages to read our latest news, find out about the work we do and learn more about our school here.
Address
2 Medtia Square, Phoenix Street, Oldham, OL1 1AN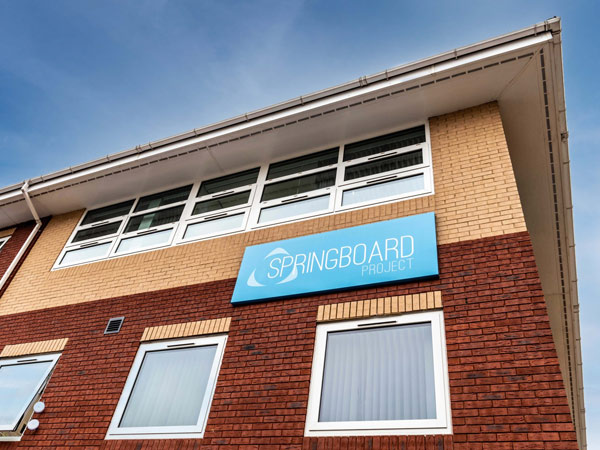 A few words from the Head
Here at the Project, we believe passionately in supporting our students to achieve their very best outcomes and overcome their barriers to learning. Our provision is set up to provide high quality, innovative educational provision for 14-19 year olds with social, emotional and mental health (SEMH) needs. Our aim is to meet the needs of our young people where they are, supporting them to gain the skills, knowledge and experience necessary to go into fulfilling life beyond education. It is our ambitious goal to support every one of our students into employment, further education or training once they leave us at 19.
We promise to ensure all our students have the opportunity to:
Gain a minimum of 4 Level 2 (GCSE or equivalent) qualifications, including Maths and English
Gain a vocational qualification in a pathway of their choice
Develop employability and life skills, including recognised qualifications
Have real, meaningful work experiences, including being allocated a career coach, who will stay with them post-19
We also believe that we cannot support our young people in isolation, and so always look for innovative ways to support our wider community, the young people's families. This can be through offering a friendly ear / support to the adults around our students through to real, practical support via our 'Project Pantry', a one-stop option for families struggling with the cost of living crisis.
The Project is part of the New Bridge Group, a specialist MAT focused on supporting young people across Oldham, Tameside, Rochdale and Stockport with additional needs. Through the MAT, and our partnerships with wider external agencies, we can support our young people up to the age of 25, ensuring they have the best possible outcomes and move successfully into adulthood.
We hope that the information on this website provides you with more details and answers any questions you may have. Whether you are a prospective parent, current parent, member of staff (or possible a future member of staff), student or member of the wider community, we trust you will enjoy looking through our site. If, however, you have any further questions or queries, please do not hesitate to contact our team either via email or telephone number below and we will get back to you as quickly as we can.
Please contact our team on 0161 883 3250 and we will be happy to answer any queries you may have and refer you to the appropriate member of staff.
Alternatively, you can email info@springboardproject.org
Andrew Howard, Head of Site
Registered MAT address 
Roman Road
Holinwood
Oldham
OL8 3PH
Andrew Howard – Executive Head
Andrew Howard is the Executive Head of Spring Brook Academy (Upper & Lower) and The Springboard Project,
all of which are part of the New Bridge Multi Academy Trust.